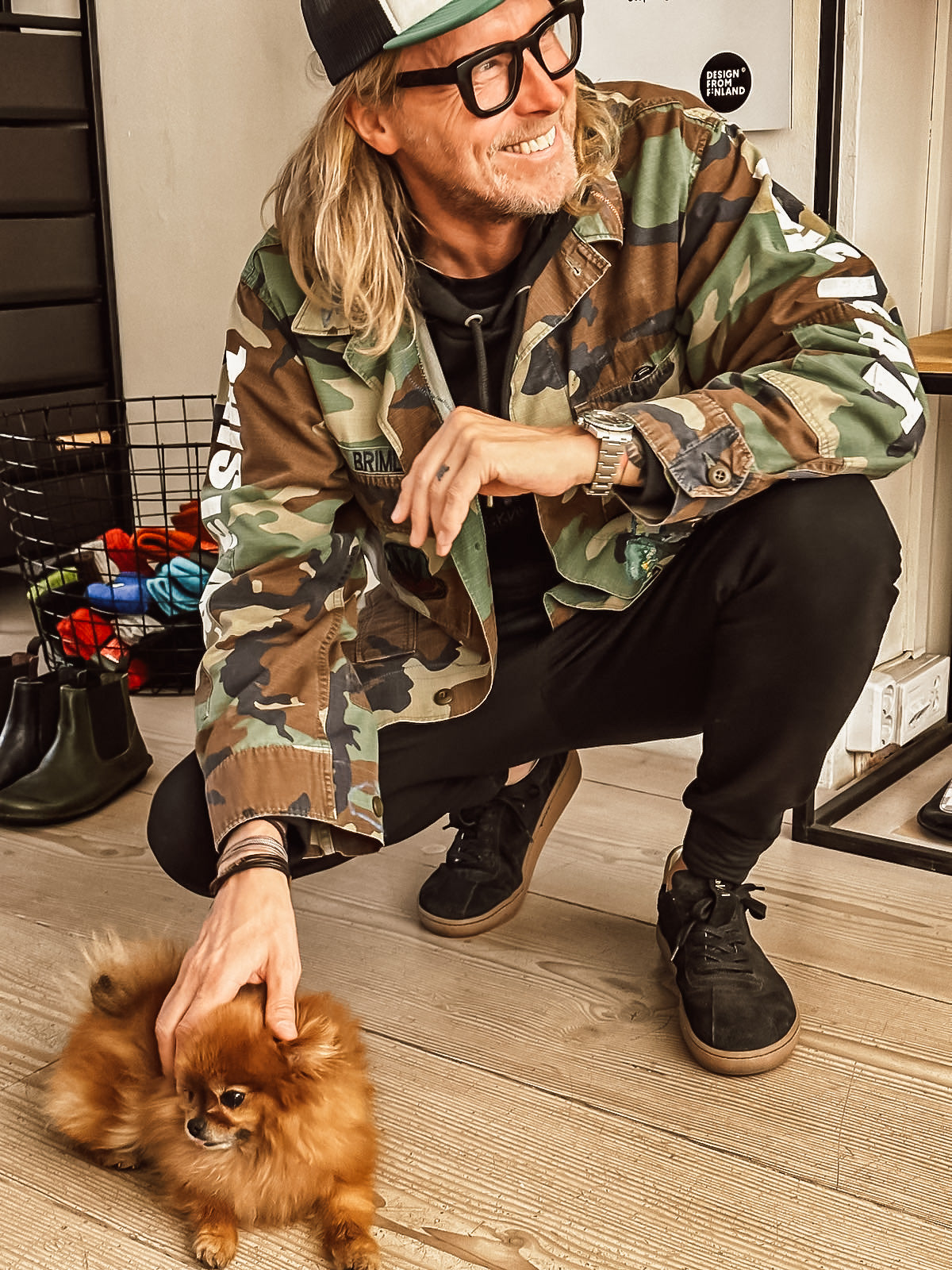 Calling all Sneakerheads
Did we always plan to create sneakers? Nope. It was actually Kalle, one of our founders based in Helsinki, who came up with the idea. Kalle is in the picture above, and though his adorable Pomeranian steals the spotlight, note that Kalle is rocking the SYDNEY sneakers in Bio Suede.

Kalle is quite the sneakerhead (who comes up with these shoe-related terms? Shouldn't it be "sneakerfoot"?) and was obviously already accustomed to wearing the super comfy VIBAe shoes, so he wanted a super comfy sneaker too!
Us five founders in Helsinki and Malibu make all the decisions together. As a relatively new start-up we have the opportunity to try things out. See how they work. Go forth with good vibes!
Our first thought was: The world is full of sneakers, how are we going to stand out? The answer was pretty obvious. What the world doesn't yet have is a sneaker with our VIBAe super comfortable footbed! We ALL wanted a sneaker that not only looked good but felt amazing!
Ludo, our Malibu based founder and shoe designer extraordinaire, got to work. He reverse-engineered classic sneaker making and removed FCKN everything that was not needed to create the most comfortable sneaker in the world!
When our factory in Portugal was happy with the samples, they sent us all a pair to wear. We wore the samples, requested adjustments and here we are!
They truly feel like a glove for your feet, incredibly lightweight and comfortable, thanks to our Carbon Step footbed.
They're all we've been wearing since the first samples came out months ago! Allow the photos to speak volumes as they showcase the remarkable flexibility of our sneakers!



Based on your valuable feedback, we have made an adjustment to the sizing of our sneakers. They now have an additional 3mm in length compared to our other models. This change ensures that our shoes are more aligned with the sizing of other shoes available in the market.
 
We look forward to hearing your thoughts on the design. Please leave a comment on our Instagram or Facebook page and let us know what you think!