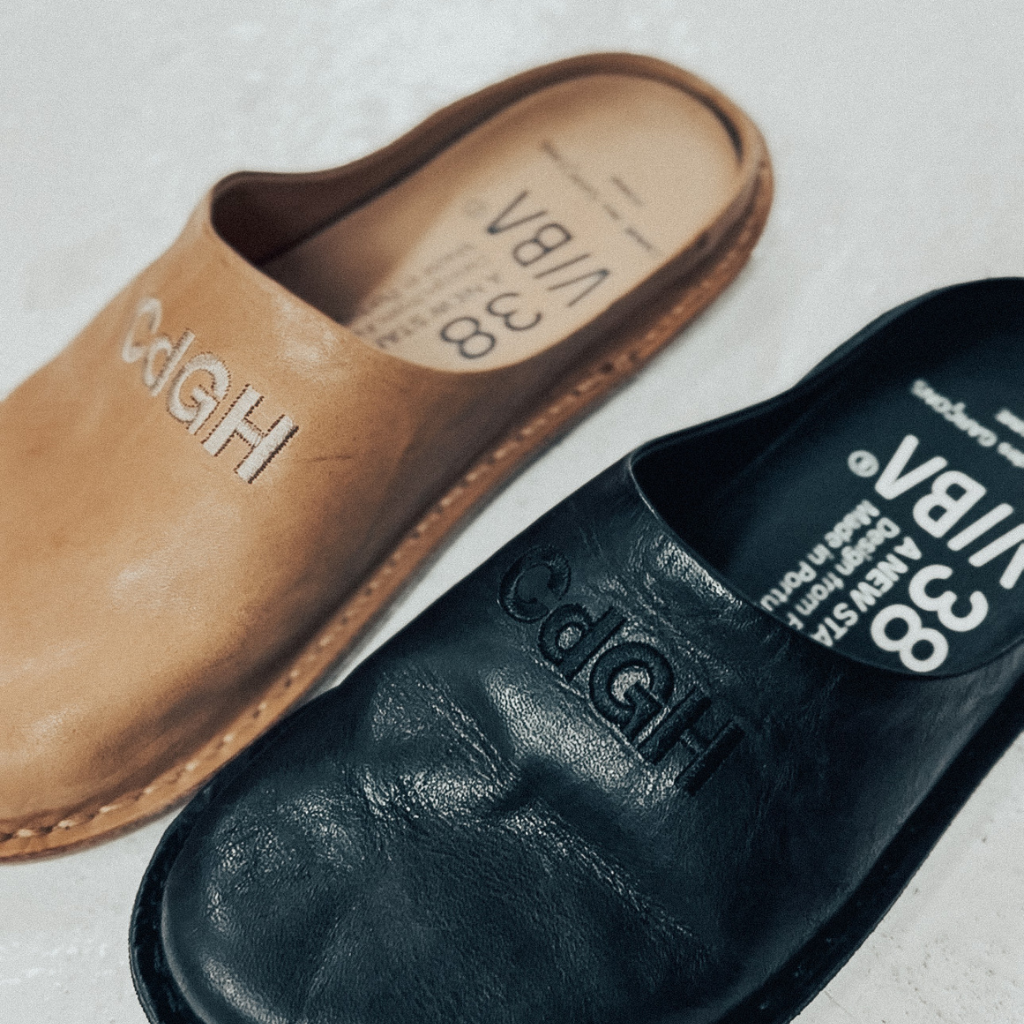 EPIC collaboration: Comme des Garçons Homme x VIBAe
Yes, you read the headline correctly! We're still pinching ourselves to make sure it's real, but trust us, it's happening!
It all started with Dallas, our dear friend who runs the Tokyo VIBAe store. He knows someone, who knows someone at Comme des Garçons… and this resulted VIBAe footwear catching the attention of Comme des Garçons Homme, the iconic Japanese fashion label based in Paris. And guess what?
They handpicked our ROMA leather slippers for their upcoming SS24 collection!
The Preto Black and Fawn Tan ROMA slippers, beautifully embroidered with the Comme des Garçons Homme name on top, embody the perfect fusion of elegance, style, and cutting-edge design. But here's the real deal - this collaboration goes beyond aesthetics. It's about embracing comfort as the ultimate fashion statement!

Our founders from Helsinki, Kalle and Minna, jetted off to Paris during the midsummer weekend to get a sneak peek of the collection.
 
Did you know that the Finns and the Japanese share a love for simplicity and minimalism? And here's a fun fact - Tove Jansson's adorable Moomin characters are beloved by the Japanese too! Kalle and Minna brought Moomin gift bags as souvenirs, and they turned out to be the perfect icebreaker during the meeting. 

The Japanese gentlemen of Comme des Garçons at the showhouse were drawn to Kalle's ZUMAs and Minna's PORTO sandals. Kalle told them they exclusively wear VIBAe because it's not just a brand to them - it's a way of life! The gentlemen were impressed and genuinely liked both these styles too.

The VIBAe ROMAs perfectly complemented the minimalist, black and white graphic aesthetics of the Comme des Garçons Homme SS24 collection. It´s a match made in fashion heaven, combining Comme des Garçons Homme's boundary-pushing designs with VIBAe's commitment to quality and unparalleled comfort. 
Mark your calendars, because starting February 2024, you'll have the opportunity to purchase the limited-edition VIBAe and Comme des Garçons Homme ROMA slippers in Leather Preto Black and Fawn Tan.
The limited edition will be available through select high-end retailers and online stores. Whether you're a trendsetter, a comfort enthusiast, or both, this is your chance to elevate your style game with ergonomic, ecological, and ethical footwear that exudes "fabulous" with every step.
Yours in fashion-forward excitement,